Is Jesus prompting you to lead a Bible Study, but you don't know how to start?

Are you afraid that you don't know enough of the Bible to do this?
Does the thought of directing a discussion make you quiver?
Everyone feels that way at first. Really!
You are so in the right place.

What if I told you that you could…
• Effectively lead a Bible Study even if you've never done it before?
• Make a simple plan for leading a lesson that your group will love?
• Graciously overcome challenges that crop up while you are leading?
If you want to lead a Bible Study or want to do a better job at leading one, then this course is the ideal next step.
Whenever I get an email from someone who has chosen to do one of my Joyful Walk Bible Studies with their group, they often ask this one big question, "How do I lead the discussion when we get together?" That may be your question as well. You are not alone. That's why I'm here to help you.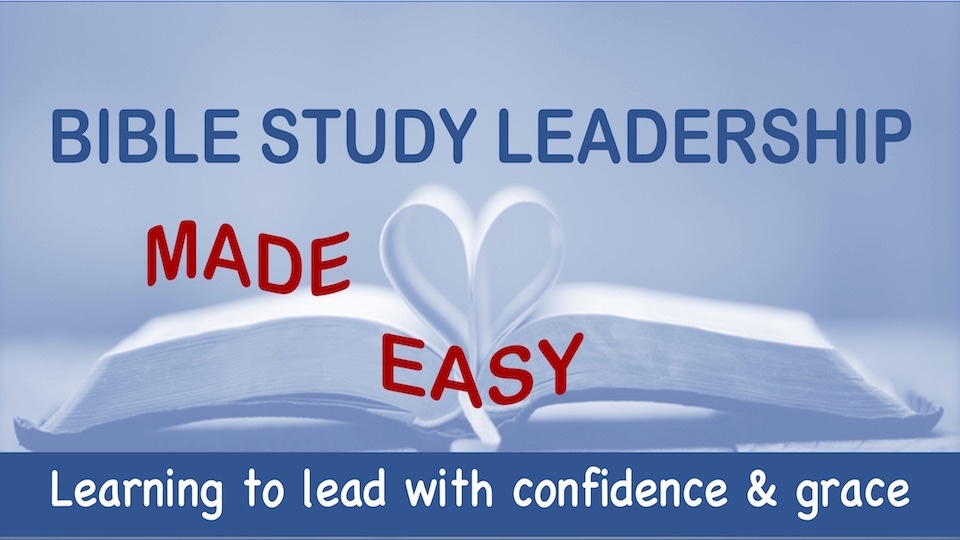 I am just a regular woman. I don't have a seminary degree. I just love Jesus and the Word of God. And, I have learned from Jesus and the women mentors He's given me through the years how to step above my insecurities to lead a Bible Study with confidence and grace.
In this course, I'll share the best of what I've learned with you.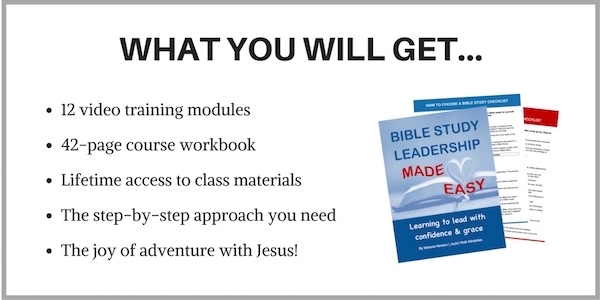 Bible Study Leadership Made Easy is designed to get you moving forward as a new Bible study leader or to give you extra help if you already have some experience at leading a study for a group.
Through this course, you will learn how to start a Bible study group, how to choose a good study for your group, and how to take each lesson and make a plan for leading the discussion. We will also address some common challenges that arise as you are leading a Bible study.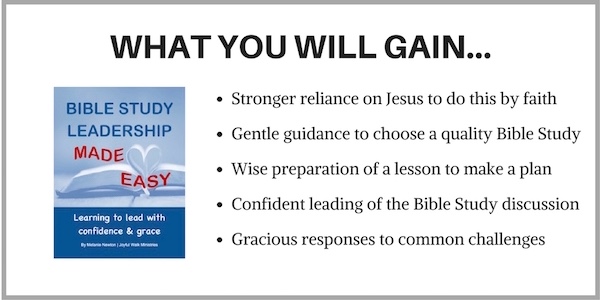 Who is "Bible Study Leadership Made Easy" for?

This course is for you if…
You are thinking about starting a Bible Study group and leading the discussion for it.
You want to learn how to lead the lesson discussion for an existing Bible Study group.
You have some experience at leading a Bible Study but want to pick up new ideas.
You are scared to do this but want to at least learn how.
This course isn't for you if…
You are happy to let someone else lead a Bible Study so you can just participate.
You aren't willing to be stretched by Jesus and learn to rely on Him more.
Actually, just going through this course will make you want to at least try leading a Bible Study, get stretched by Jesus and rely on Him more. Guaranteed!
My heart's desire is to help you learn to study the Bible for yourself and to help you gain confidence to lead a Bible Study for others. With this course, you can pick and choose which videos to watch that meet your needs as a current leader or work through the whole course to get "trained" and ready to lead.
Are you ready for adventure? Yes! Let's get started.

Still feeling inadequate to lead a Bible study?
Everyone feels that way when they are just starting out leading a study. You are not alone in how you feel. It's okay to feel a bit scared. Remember why? Jesus is the one who makes you able to lead a Bible study. Promise. So, go for it!